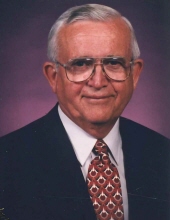 Obituary for Charles "Chuck" Frederick Kading
Charles "Chuck" Frederick Kading, 88, of Eau Claire, WI passed away peacefully Tuesday, September 17, 2019 at his residence.

He was born in Monroe, WI on April 5, 1931 the son of George and Ferne (Bragg) Kading. Chuck lived in South Wayne and graduated from Stoughton High School in 1949. He joined the Army in 1951 and served in Japan until 1953. Chuck married Mary Tietz on May 14, 1955 at Epiphany Lutheran Church, Eau Claire. He held many offices at the church over the years. Chuck worked for Western Electric, which later became AT&T, as an installer. He retired in 1987. Chuck was also a member of the Telephone Pioneers.

Chuck loved his lake house on Lake Tainter. He built most of the house with some family assistance. Chuck enjoyed pontooning and watching eagles. He was very handy and liked to build clocks.

He is survived by his wife, Mary of Eau Claire; four children, Douglas Kading of Lakeville, MN; Nancy (Jeffrey) Shepler of Edgerton, Ohio; Barry (Mary) Kading of Tonka Bay, MN; Alan Kading of Menomonie; grandchildren, Alicia Kading of Apple Valley, MN, Benjamin (Marissa Mongoven) Kading of Eden Prairie, MN; Caroline Kading of Rosemount, MN; Brooke and Brandon Frion of Menomonie; Mathias Shepler of Edgerton, Ohio and Isaiah Kading of Menomonie. One great-grandson Layne Kading. He is further survived by other relatives and friends.

Funeral services will be held Friday, September 20, 2019 at 11:00 AM at Our Redeemer Lutheran Church of Eau Claire. Pastor Jeff Carlson will be officiating. Interment will be at Lakeview Cemetery after the service with full military honors. Family and friends may call Friday from 10:00 AM until the time of service at the church.

Stokes, Prock and Mundt Funeral Chapel is serving the family. Online condolence may be left at www.stokesprockandmundt.com.