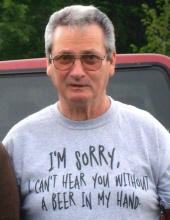 Obituary for Charles Daniel Anderson
Charles Anderson, 71, of Eau Claire, WI, passed away on April 15, 2018, reuniting with his wife in the final minutes of her birthday.
Charles was born in Eau Claire on April 24, 1946 to Joyce and Del Anderson. He graduated from North High School. Charles joined the Army and served in Vietnam from 1967-1969.
Charles married Ardith on April 27, 1974.
Charles worked a variety of jobs, including working for Uniroyal, Menards, and Pool Arctic, where he helped build oil pipelines in Alaska. He was skilled in construction and masonry.
He enjoyed playing cards, woodworking, and building small houses with scenery. Spending time with family and friends was important to him. He also enjoyed playing baseball, softball, and other sports as well as listening to music and camping in the driveway.
Charles is survived by his children Troy (Tina) Anderson, Keri Anderson, and Dan Anderson; grandchildren Dylan, Carolann, Noah, and Allie; sisters Mary (Butch) Snyder and Vicki (John) Lessard; Aunt Dorthy Wilson; Aunt Frances "Boots" Huftel; and numerous nieces, nephews, and cousins.
Charles is preceded in death by his parents Joyce and Del Anderson; grandparents Sadie (Nana) and Archie (Bomp) Wilson; sister Lynda Brunsch; and beloved wife Ardith Anderson.
The family of Charles Anderson would like to thank Terra, Christa, Emily, Janet, Katie, Amber, and Pastor Matt from hospice for their loving care.
The Celebration of Life will be held at 7:00 P.M. on April 19, 2018 at Spirit Lutheran Church, 1310 Main Street in Eau Claire. Pastor Jim Ahlquist will be officiating. Visitation will be held from 4:00 P.M. until time of service.
Previous Events
Visitation
Spirit Luthean Church
1310 Main St
Eau Claire, WI 54701
Service
Spirit Luthean Church
1310 Main St
Eau Claire, WI 54701