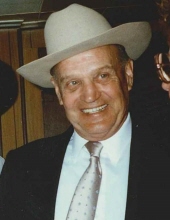 Obituary for Curtis Allen Hong
Curtis Allen Hong, 96, passed away on December 28, 2018, at Oakwood Villa Nursing Home in Altoona, WI.

He was born June 8, 1922 on the family farm in Kings Valley, Osseo, WI, to Eddie and Tena (Holmen) Hong.

Dad lived the majority of his early years on the home farm. When he and his older brother Thrumond were young, the family moved to Tacoma, WA for five years. At the request of their grandfather, Mathias Hong, they moved back to the family farm when he became ill. Dad attended school at South Valley School in Osseo, WI, ending his education in the eighth grade. He was baptized and confirmed at Kings Valley Church, Osseo, WI.

At 14 years of age, and times being hard in the 30's, dad left to find work in the wheat fields of South Dakota. He lied about his age and got a job driving truck for a trucking company. When his mother of learned of this, she contacted the company and informed them of his real age and he was abruptly sent home.

Dad continued farming until the early years of his first marriage. At that time, the Holcombe Dam project was underway and he wanted to get into construction. He applied for a job but they were not hiring. Not to be detoured, he sat on a tree stump at the construction site entrance from morning to night for several days. Seeing how badly he wanted to work, the construction company hired him. Thus, starting what would be the majority of his life's work; operating and repairing heavy equipment. He operated equipment for Astleford Construction and eventually on his own as Hong Construction. In the winter months, he hauled cattle for Jerry Randall Trucking, Augusta, WI. In later years, he hauled for Whitehall Packing Co. In the mid 60's, he started HWY 12 Construction Equipment as a sales, service and rental company until his retirement.

In 1942, he married Helen Nelson and to this marriage had three sons, Bruce, Tom and Rick. After Helen moved away, Curt raised his sons with the help of his mother, Tena and sister, Janice.

In 1957, he married Betty Jackson and to this marriage had two sons and a daughter, Mike, Donna and Dan.

On August 10, 2017, dad and mom celebrated 60 years of marriage. Mom passed away on January 16, 2018.

Dad was a man who always looked on the sunny side of life. He did not worry. He loved flowers, gardening, dancing, telling stories and a cold beer. When he retired, he could be found having coffee with the customers in Betty's Country Curl Beauty Shop.

For years, dad enjoyed camping and fishing with mom and family at NorthStar Resort in Edgewater, WI. In retirement, they were snowbirds in Donna, TX. He loved riding his bicycle and visiting with friends in the court for hours on end.

Dad's family meant the world to him and he was so proud of each and everyone's. He is survived by five children, Tom (Barb), Rick (Ginger), Mike (Debbie), Donna (Mark) Steen and Dan (Karen). Thirteen grandchildren: Kim Hong, Kerry Hong, Karla Walbeck, Jeff Hong, Jason Hong, Jenny Dudzik, Sarah McIntosh, Angie Meyers, Jessica Glumske, Nick Rongstad, Jenna McConnell, Matthew Hong and Kjersten Hong. Twenty-four great-grandchildren and one great-great grandson.
He is further survived by his brother Edward (Beverly) Hong, Nokomis, FL and sister, Janice Luer, Tucson, AZ, along with several nieces and nephews.

He was preceded in death by his wife Betty, son Bruce, brother Thrumond, father Eddie, mother Tena, granddaughter, Tena Rongstad and brother-in-law, Murrey Luer.

Dad joked that it had been his goal to reach the ripe old age of 100+ so that he could get his face on a Smuckers Jar on the Today Show. Though he came up a few years short, he gave us 96 1/2 memorable and wonderful years. We have been blessed and fortunate.

Our family would like to thank the staff at Sacred Heart Hospital for their exceptional care when he needed it. And to the staff at Oakwood Villa Nursing Home for their loving care these past two months.

Visitation will be Wednesday, January 2, 2019 from 4 pm to 5:30 pm with service to follow at Stokes, Prock and Mundt Funeral Home in Altoona, WI. Private burial will be at King's Valley Cemetery in Osseo, WI. The family requests no memorials. Online condolences may be shared at www.stocksprockmundt.com.