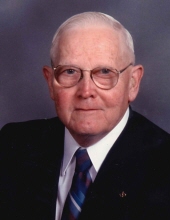 Obituary for Darold W. Mayer
Darold W. Mayer, 85, Eau Claire passed away Monday March 19, 2018 at Care Partners, which was his home the last four years. He was born July 24, 1932 to
George and Ina (Barron) in the town of Washington along US Highway 53. He lived there until he was 82 when he no longer felt he could take care of his yard full of massive lawn ornaments.

He took care of his mother at the family farm until her death in 1980.

Darold worked and retired from Falls Dairy in Foster. He loved going to and helping out at auctions. Darold would have huge picnics for his family and friends on his birthday.
Darold was a member of Grace Lutheran Church, Eau Claire for many years. He taught Sunday school and ushered. He was a very Holy and God loving man. Never forgetting his family and friends at Christmas and other holidays, he would deliver pounds of cheese and candy to his family and friends.

Darold was a quiet man. He loved meatloaf on Wednesday from Gordy's and meals on Saturday and Sunday at the Old Country Buffet and his luncheons at the Four Corners weekly.
Survivors include three sisters Arvilla Mitcher, Thorp, Ione(Harold) Freid, Eau Claire and Edna (Harlen) Carlson, Eau Claire and Texas, and sister-in-law Carol Mayer, Eau Claire.
He is further survived by his first cousin David (Patricia) Mayer, Town of Washington. He and David would travel on many road trips around the country.

Darold loved telling the story of him bringing home from Arkansaw a very heavy cement chicken. Darold held it between his legs all the way home.

Darold also has many nieces, nephews and a host of friends surviving him as well.
He was preceded in death by his siblings Arnold, Kenneth, Lila, Roger and a sister in law Margaret.

Funeral Services Monday March 26, 2018 at Saving Grace Lutheran Church,2124 Eastridge Center, Eau Claire at 11:00A.M., followed by lunch and then Interment at Rest Haven Cemetery, Town of Washington. Family and friends may call from 9:00 A.M. until time of services at the church.

The family would like to thank Nichole and the staff at Care Partners for his care the last four years.