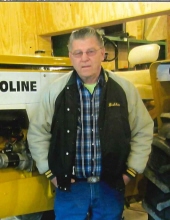 Obituary for Dennis J Olson
Dennis J. Olson- Passed away on Feb. 25th, 2019 at his home while surrounded by his family after a long battle with cancer.

Dennis was born Jan. 28th, 1949 in Eau Claire, WI to the late Donald J. and Bonnie J. Olson. Dennis enlisted in the U.S. Army at the age of 16 with his parents consent and was honorably discharged after being injured in Vietnam.

Dennis (most knew him as Denny or Bubba) was a member of the operating engineers Local 139. He was operator of the year 1994 in the state of Wisconsin. He enjoyed his career as an operator doing road work and pipeline for many years.

Denny's greatest love, after his wife and family, was antique tractor pulling. He was the president of Antique Engine and Model Club. He loved to travel, and he was also a very creative welder and carpenter. Denny could make people laugh with his many stories. He loved being with his family and friends.

Dennis is survived by his wife Bonnie, son Todd (Lynn), son Rick (Kim), daughter Robin (Jeff), daughter Penny (Jim), daughter Tina (Todd), son Richard, and son Daniel (Tracy). He has 12 grandchildren and 7 great grandchildren. He is preceded in death by his parents Donald and Bonnie Olson, his in-laws Douglas and Loraine Booth, brother Christopher, brother George, great granddaughter Kassidy, his grandparents, and several aunts and uncles.

He will be deeply missed.

A celebration of life will be held at Stokes and Mundt funeral home on Saturday, March 2nd, 2019. It will be held from 2-4pm with a luncheon to follow.