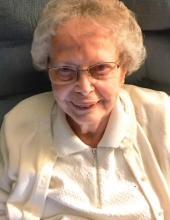 Obituary for Doris M. Fehr
Doris M. Fehr, 90, of Eau Claire, passed away July 26, 2019 at her residence.

She was born on June 3, 1929 in Stillwater, MN, to Edwin and Minnie Larson, one of seven children.

Doris married Howard Fehr on September 6, 1952 in Stillwater, MN, a union that brought them six children. Doris loved being a homemaker as it allowed her to spend more time with her kids. She was also a dedicated wife and woman of faith; she was very supportive of Howard's ministry work. She had many interests including sewing, knitting, gardening, and quilting, which was the most important to her. She made thousands of quilts for Lutheran World Relief.

Doris is survived by her husband, Howard; children, Timothy (Gay) Fehr, Rebecca (Fred) Edenburn, David Fehr, Mary (David) Mantel, Peter (Renee) Fehr, and Karen (Steve) Zurcher; siblings, Melvyn Larson, Janet Grove, and Marcia Kalarites; 11 grandchildren; 11 great-grandchildren; and many nieces, nephews, and friends.

She is preceded in death by her parents, Edwin and Minnie; sister, Elaine Larson; brothers, Donald and Russell Larson; and grandson, Derek Fehr.

A Celebration of Life will be held at Immanuel Lutheran Church in Eau Claire on August 10, 2019 at 10 A.M. Family and friends may visit from 9 A.M. until the time of service. A luncheon will follow. A private burial will be held at a later date.

In lieu of flowers, donations may be made to Immanuel Lutheran Church.

Stokes, Prock and Mundt Funeral Chapel is assisting the family with arrangements. Online condolences can be left at www.stokesprockandmundt.com.