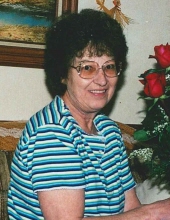 Obituary for Evelyn Arlene Butler
Evelyn Arlene Butler, 83, passed Tuesday, August 6, 2019 at her home, with her husband and family by her side, under the care of Mayo Hospice.

She was born March 6, 1936 in the town of Boyd, WI to Daniel and Ida (Mitchell) Mason. Evelyn graduated from Stanley High School in 1954.

Evelyn had many passions including traveling, gambling at casinos and bowling. She married Elmer on January 5, 1981 in Las Vegas. The two of them took many trips together. Some of their favorites were to Colorado, South Dakota, and Florida.

She worked at Armors Meat Packing plant for many years. When the plant moved to Nebraska, she relocated as well. She returned to Eau Claire in 2001 to be closer to her family.

Evelyn is survived by her loving husband of 38 years, Elmer; children, Charles (Shelly Davis) Mawby, Deborah (Pete) Owen, Jeffrey (Judy) Mawby, Gayle Neibauer, Ronda (Walden) Hodges, Susan Merk, Eric (Patrice) Bartz; daughter in-law Kim Hoover; she was also survived by eleven grandchildren, Kelli (Jeffrey) Corbin, Lyndsey (Dale) Killian, Jamie Ruscin, Christine (Brent) Gerber, Michael (Sandy) Ruscin, Kevin Prochnow, Zachariah (Jennifer) Merk, Jessica (Justin) Kramer, Rachel (Ryan) Schaeder, Allison Bartz, Matthew Martz and many great grandchildren.

Funeral services will be held Tuesday, August 13, 2019 at 11 am with a luncheon to follow at Stokes, Prock and Mundt Funeral Chapel, 535 S Hillcrest Pkwy, Altoona. A visitation will be held starting at 10 am until the time of service. Stokes, Prock, and Mundt is assisting the family. Online condolences may be left at www.stokesprockandmundt.com.