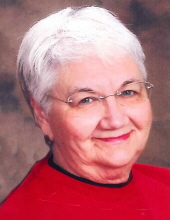 Obituary for Janet Sharon Gullickson
Janet Sharon Gullickson, 81, of Eau Claire, WI passed away early Monday morning on August 26, 2019 at Marshfield, Wisconsin.

She was born March 18, 1938 in Eau Claire to the late Doris and Ernest Johnson. Janet attended first grade at Sheldon Valley School in Mondovi. She later transferred to the original Little Red School and finished at Eau Claire Senior High. She married Melwin O. Gullickson in Eau Claire on February 18, 1956.

Besides being a loving wife and mother, Janet enjoyed painting and was a past member of the Eau Claire Art League. Janet and Mel went to craft shows in the summer and created crafts together in the winter. In later life, Janet painted for the kids, friends and people they knew. Janet and Mel enjoyed making and giving to others.

Janet's mother collected dolls so when she died, Janet and her sisters got her mother's dolls and started collecting more. Between Janet's dolls and Mel's toy tractors, their place was a fun place to visit.

Camping was another important part of Janet's life. Janet and Mel camped in Chippewa Falls at O'Neil Creek for many years. They enjoyed traveling and visiting Arizona when their son lived there. They also visited many friends from the campground who live in Arizona during the off season.

Janet worked at Luther Hospital, for the Colleen Bates family, Aanes Studio and Giles Photography. When the kids and her sister got her into the computer, she had to have a new camera. She enjoyed taking pictures and using the computer to crop and enrich them. Janet would print the pictures and show them to everyone.

She is survived by her husband Melwin; five children, Mary Eckwright, Amy (Charles) Hobbs, Melwin (Dolores) Gullickson Jr., Catherine Bushendorf (Wayne Boggess), Judy (Jeff) Lawrence; nine grandchildren; nine great-grandchildren, one great-great-grandchild; three sisters and two brothers, Judy (Rod) Alf, Thomas (Linda) Johnson, Mary (Bob) Wold, Ernest (Michelle) Johnson Jr., and Carrie (Larry) Hartman.

Janet is preceded by her parents; son John Gullickson; grandchildren, Megan Bushendorf, Ann Eckwright, Cassandra Hobbs; and son-in-law's Donald Bushendorf and Robert Eckwright.

A Memorial Service will be held Friday, August 30, 2019 at 3 pm with Pastor David Irgens officiating at Stokes, Prock and Mundt Funeral Chapel, 535 Hillcrest Pkwy. Altoona, WI. Friends may visit from 1 pm until the time of service at 3pm. Interment will be at Drammen cemetery at a later time.

Cremation Society of Wisconsin, Altoona is assisting the family. Online condolences may be left at www.cremationsociety-wi.com.