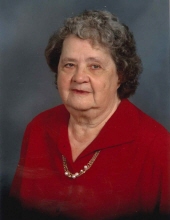 Obituary for June B Knudtson
June B (Linse) Knudtson, 89, of Fall Creek passed away on August 29th at the Augusta Health and Rehabilitation Center in Augusta, Wisconsin.

June was born the oldest child of August, Sr and Hilda (Auer) Linse on February 2, 1930 in Mondovi, Wisconsin. She attended Mondovi Schools until her Sophomore year and then transferred to Eau Claire Senior High School where she graduated in 1948. June married Richard Knudtson on August 29, 1950 in a candlelight service in Cleghorn, Wisconsin Together, they had ten children and farmed in Fall Creek since 1951 until their retirement in 1992.

June was an active member of the Ladies Auxiliary and Altar Guild at St. Paul's Lutheran Church. June loved flowers and would volunteer to put together floral arrangements for the church services. She would also volunteer to help with Arts and Crafts segment of the summer Vacation Bible School Program. Over the years, June painted many pictures using water colors and acrylic paints. Every one of her children have her paintings throughout their homes.

June was also involved in the Eau Claire County 4-H Program. She volunteered for various 4-H functions, served as a General Leader for the Lucky Lincoln 4-H for over 25 years, and a member of the Eau Claire County Fair Committee. She looked forward to the Eau Claire County 4-H fair each year.

June liked volunteering her time at the Fall Creek Center of Care, especially the activity department and spent multiple hours volunteering at the Eau Claire County Beaver Creek Reserve.

June is survived by her children, Ruth Knudtson of Mesa, Arizona, Donna Knudtson of Madison, Diane Knudtson of Altadena, California, Jeanne (Bruce) Green of Eleva, Nancy (Jeff) Ludwigson of Eau Claire, Carl (Jean)Knudtson of Fall Creek, Janice (Russell) Nicol of Eau Claire, Glenn Knudtson of Colfax, and Lois Kavanaugh of Neenah, Wisconsin.

June is also survived by twelve grandchildren, Kristi Green Roos (Travis Roos) of Altoona, Kari Jo Green (Ben Dallam) of Eau Claire, and Kyle Green (Izzy Kanyelis) of Eau Claire, Riley Gerike (Lindsey Clark) of Osseo, Adam Knudtson and Alisa Knudtson of Eau Claire, Jessica (Tyler ) Olson of Baldwin, Matthew Nicol (Amy) of Eagan, MN, Luke Knudtson and Logan Knudtson of Colfax, Erin Kavanaugh of St. Paul, MN, and Jared Kavanaugh of Neenah, WI.

Nine great-grandchildren, Lauren, Thomas, Owen, and Luke Roos of Altoona, Keegan Green of Eau Claire, Austin Gerike, Sarah Gerike, and Lyla Clark of Osseo, and Cooper Olson of Baldwin.

June is also survived by six siblings: Betty Schmidt of Racine, Roger (Rita) Linse of Eau Claire, Alice (Ray) Friewald of Janesville, Mary Linse of Highline, Indiana, Pat Linse of Altadena, CA, Judy (Mark) Minor of Chatsworth, CA

June was preceded in death by her husband of 69 years, Richard, a daughter, Helen, brothers August Linse Jr. and Bobby (Robert)Linse, parents, August Sr. and Hilda (Auer) Linse, and sister-in-law, Dorothy Linse.

A Funeral service will be held Saturday, September 7, 2019 at 11 am at St. Paul's Lutheran Church, 721 S State St, Fall Creek with Pastor Carlton Kangas officiating. Friends may visit at the church from 9:30 AM until the time of service. Internment will be held at Trinity Cemetery.