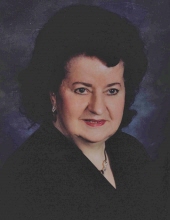 Obituary for Loretta Elizabeth Brown
LORETTA E. KLEVEN-BROWN

Loretta E. Kleven-Brown, 96, of Eau Claire died Tuesday, May 14, 2019 at BeeHive Homes of Eau Claire.

Loretta was born March 25, 1923 to Rienerth and Laura (Leer) Kleven in Eau Claire, WI. She graduated from Anthony School in the Town of Drammen, near the Kleven family farm, June 4, 1937 and from Eau Claire Senior High in June, 1941.

She worked at the Ordinance plant in Eau Claire during WWII and met Earl Wade Brown of Muskogee, Oklahoma, while he was stationed at Camp McCoy to train as a paratrooper. The couple were married in Vancouver, Washington, where Earl worked as a welder in the shipyards.

After moving back to the City of Eau Claire Loretta spent many years as a housewife, active in the PTA, the church and her home. Among the high-lights: she baked individual pies and special snowman cakes for the children and teachers alike, and fully decorated each holiday at both the school and her home. Loretta's homemade buns and baked beans are legendary.

She entered the workplace again in 1957, employed at the Putnam Heights Shopping Center and later at Kerm's grocery, then located on 9th and Water. She also worked at Fabri-Tek, Chip-Tronics and Cray Research. At Chip-Tronics she became the first woman supervisor in an all-man field. She managed a store where she sold "World of Wood" stoves and managed the Tender Trap in downtown Eau Claire. Loretta would conclude her work history at NSP/Xcel Energy from where she retired at the age of 76.
After her children were grown, she spent years travelling and camping with her life-long friend, Allard Hanson.

Loretta was active at Grace Lutheran Church serving on the Foundation Board and helping where she could. In more recent years she attended Saving Grace Lutheran Church.
Loretta is survived by one son, Wade D. Brown, a daughter, Charlene (Norman) Gillette, one grandson, Chad T. Olson and one great grandson, Vance A. Olson, all of Eau Claire.
She is preceded in death by her parents, her husband, one daughter, Sherryl Brown, one son-in-law, Norman Gillette, her life-long friend Allard Hanson, her brother and sister-in-law, Owen and Ione Kleven, and her sister and brother-in-law, Beverly and James Pendergast.

Memorial services will be on Tuesday, May 21, 2019 at 2:00 pm at Saving Grace Lutheran Church with Pastor David Irgens officiating. Visitation will be one hour before services.
Interment will be at Lakeview Cemetery in Eau Claire, after which a luncheon will be served by the ladies of Saving Grace.

Stokes, Prock, and Mundt Funeral Chapel, Altoona is assisting the family. Online condolences may be left at www.stokesprockandmundt.com.