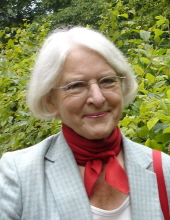 Obituary for Lorna King
Lorna King

Lorna King passed away on October 26, 2019, at her home in Eau Claire, Wisconsin.

Born in Haslingden, Lancashire, England, on February 7, 1933, Lorna, or "Nell," was the beloved third child of attorney James Rostron and Evelyne (Bateson) Bugler. After attending the local grammar school through the Second World War and then Cheltenham Ladies' College, she was one of few women to read mathematics at Girton College, Cambridge University—having met her constant companion of the following seventy years, Brian J. King, the preceding summer on a marine biology field trip. Together at Cambridge, at Oxford, and in London, Nell and Brian married in 1957, and left the United Kingdom two years later for the Mayo Clinic in Rochester, MN, where Brian trained in surgery.

Nell's first two boys, Ross and Jeremy, were born in Rochester, and her third, Jonathan, in John Day, Oregon. There Nell opened a child care center in her house, learned how to cope with rattlesnakes and to hunt deer and antelope at W4 Ranch, and became an American citizen—although she never lost her English accent and ways. Moving with her young family to Eau Claire in 1969 thanks to Dr. Herbert M. Aitken and the Midelfort Clinic, she created a loving home dedicated to reading, music, and vigorous hobbies. Reserved in public and not one for hugs or kisses, Nell had a special relationship with every member of her family, taking each on his own terms. She had an infectious and kind laugh, and was capable of great silliness. Tireless in her educational efforts, she took her boys to after-school lessons and sports practices, and pushed them to meet her high standards. Meanwhile, she developed life-long passions for the outdoors, golden retrievers, and British biography. For decades, she kept in close correspondence with family in England, especially her mother, her sister Gwen, and Gwen's daughter Milly.

An admirer of intrepid Victorian women explorers, Nell loved to travel. She was always impeccably dressed (usually in red), despite carrying nothing more than a single small bag. Quietly fierce and stoic, Nell made matter yield to will. After putting on an elaborate Christmas dinner one year, she excused herself on account of a 'stomach ache'—which in fact was a burst appendix. When Brian had a close encounter with a freight train, and later contracted pancreatitis, she allowed no doubt: he WOULD get better. And that he did.

In recent years, dementia and arthritis took their toll. Thanks to devoted care by Brian and many others, Nell carried on with dignity to the very end, at home. In accord with her wishes, her remains will be cremated, and no service will be held. Mourning her departure and celebrating her long and blessed life are her husband Brian; her sons Ross, Jeremy, and Jonathan; her daughters-in-law Hyoshin, Katya, and Jill; her grandchildren Alex, Josephine, Theo, Felix, Ben, and Nate; her younger brother William; her sister-in-law Beryl Mallett, and her niece Milly Morgan.