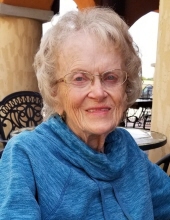 Obituary for Margene Ruth Knudtson
Margene Ruth Knudston, 86, returned to our Heavenly Father on October 29, 2019, after a short illness.

She was born on October 2, 1933, in Eau Claire, WI, the daughter of Otto and Selma Hageness. She was raised on a dairy farm in rural Eleva and attended the one room country Sands School, graduating from Eleva-Strum High School in 1951. She was baptized, confirmed and married at Pleasant Valley Lutheran Church in rural Eleva. On March 16, 1957, she married Orvin Knudtson. They lived and raised their four children in the same house in the Town of Seymour in Eau Claire, WI for the past 60 years.

She worked at Peters Meats in Eau Claire, WI for 23 years and then Uniroyal for 18 years until the plant shut down in 1992. In her retirement, she spent a good amount of time visiting friends and family and entertaining the residents at local nursing homes with line dancing and singing. More recently, she enjoyed music lessons where she played piano by ear and was a member of the Stand In the Light choir.

Margene was the kindest, sweetest and most giving soul that you ever had the pleasure of knowing. Always thinking of others more highly than herself, and loving unconditionally. She gave the precious gift of her time. Always ready to stop by for coffee with a friend with a baked good in hand and a smile on her face. In better health, she loved attending church and breakfast after with her sister Shirley. Her lefse and banana cream pies were legendary. As a kid growing up on the farm, she had a love of animals that carried through her life. Music flowed through her. She could hear a tune and play it by ear on the piano or accordion and was always up for a polka or waltz.

She left a beautiful legacy for her grandchildren. In her granddaughter's words, "My grandmother taught me what it means to love and give of oneself completely. Her sweet spirit touched everyone who met her. She was a rare soul in this fast-paced world who took time to smell the roses and notice the beauty in trees as you drove by. She lived a simple life, not distracted by the things to do and get done but one who gave of her presence. We thank God he sent an angel among us in the form of Grandma Margene who made this world much brighter and sweeter during her time here. May we all learn lessons from the simple beauty of her life and the way we make others feel in our presence."

Margene was a lifelong member of Concordia Lutheran Church in Eau Claire, WI.

Those left to mourn her loss, including her husband, Orvin; sons, Mike and Dan Knudtson, Eau Claire, WI, daughter, Debbie (Mike) Hong, Eau Claire, WI and daughter, Cindy (Jon) Skare, St Paul, MN. Grandchildren, Sarah (Jamey) McIntosh, Eau Claire, WI, Angie (David) Meyers, Chilton, WI, Jessica (Zane) Glumske, Neenah, WI, Luke Skare, St Paul, MN and Leah Skare, St Paul. Eleven great-grandchildren; Grace (12), Jackson (11), Siena (10), Elena (9), Lincoln (8),

Xander (7), Jude (7), Charlie (6), Elin (4), Maxwell (4) and Samuel (3). Brother, Donald (Dorothy) Hageness, Janesville, WI, and sister, Shirley Brown, Fall Creek WI. Brother-in-law, Raymond Knudtson, Eleva, WI and sister-in-law, Virginia Knudtson, Gilmanton, WI.

She was preceded in death by her parents and an infant brother.

Funeral service will be held at Concordia Lutheran Church, 3715 London Rd, Eau Claire on Saturday, November 2, at 11am with visitation at 10 am. A luncheon reception will follow the funeral service.

"Do nothing from selfish ambition or conceit, but in humility count others more significant than yourselves. Let each of you look not only to his own interests, but also to the interests of others." -Philippians 2:3-4 ESV

Stokes, Prock & Mundt Funeral Chapel is assisting the family. Online condolences may be shared at www.stokesprockandmundt.com.