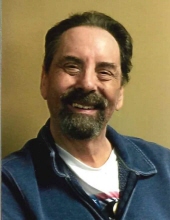 Obituary for Michael James Eickstaedt
Michael James Eickstaedt, 65, of Eau Claire, WI met with his Lord and Savior on Saturday, March 2, 2019 at Care Partners Country Terrace in Menomonie, WI.

He was born on March 31, 1953 at St. James Hospital in Chicago Heights, IL to Leo and Florence (Kregel) Eickstaedt.

He attended parochial school at Danville, IL and Epiphany Lutheran in Eau Claire. He graduated from Memorial High, the class of 1971. He enlisted in the US Navy and later received a Medical Discharge. Michael enjoyed singing in the church choir, music, golfing, hunting, and fishing at the family cabin in Canada. He has friends at Mount Washington, Dove West, and several group homes.

He is preceded in death by his father, Leo, in 2001; his grandparents, Martin and Anna Kregel and Rev. and Hilda Eickstaedt; aunts, Janette, Joyce, Joanne Kregel and Marlene Lynch; an uncle, Kenneth Kregel.

He is survived by his mother, Florence; brothers, David (Elaine) of Orland Park, IL, Brian (Laurel) of Eau Claire; nephews, Dr. Joshua (Jennifer), Eric (Jenna), Dr. Nathan (Jessica); niece, Kelsey Eickstaedt; uncles, Leonard (Marge) and Norman; and many cousins and friends.

The family would like to thank the staff at Country Terrace and the Menomonie EMT unit for their services provided for Michael.

Memorials may be given in his name to Our Redeemer Lutheran Church and Eau Claire County Mental Health Services Committee

A funeral service will be held Friday, March 8, 2019 at 11 A.M. at Our Redeemer Lutheran Church 601 Fall St. Eau Claire, WI. Friends may visit from 10 A.M. until the time of service on the day. Interment will be held at Rest Haven Cemetery Eau Claire.

Stokes, Prock & Mundt Funeral Chapel is assisting the family. Online condolences may be shared at www.stokesprockandmundt.com.