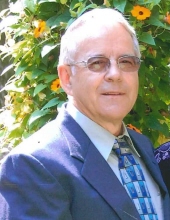 Obituary for Richard Harold Balts
Richard Balts, 81, of Eau Claire passed away on the beautiful spring morning of Wednesday, May 15, 2019, surrounded by his family. Richard was born of his family's farm in Cadott, WI on November 23, 1937. He married the love of his life, Sharran (Dascher) Balts on September 20, 1958. Richard was a hardworking man, who, in his younger years, loved working on his parents' farm. His first job was at Hillside Dairy, where he worked for 5 years. After that he worked at RD Smith Dairy Supply for 2 years. Later, he worked for Bake Rite Baking Company for 34 years, after that he worked for Taystee Bread, (which was later renamed Sara Lee Baking) for 34 years. He retired from his position at Sara Lee in 2000. In his retirement years he worked at Valley News, and then finished his working life at the Eau Claire Press Company in 2008.

Richard and Sharran owned the Westerner Restaurant on the West side of Eau Claire for 16 years where he taught his sons how to work hard but be sure to have a little fun as well. He loved hunting and fishing with his family and friends. Richard loved taking trips out West, and was planning another trip in June. He loved being outside and had a green thumb and enjoyed gardening. He liked watching the birds and deer in the back yard, and shooing the squirrels away out of the Feeders. Richard also had a passion for all Wisconsin sports teams and could often be found cheering them on— loudly.

Family came first for Richard. He always made time to watch a game, take a kid hunting or fishing, or just hang out with the family. He and Sharran had a family to be proud of. After Sharran had a stroke, he cared for her at home for 10 years, and carried on the family tradition of always having an open door, hot coffee, and homemade baked goods. Thank you Dad for always being there.

Richard is survived by his five sons, Darwin (Dana) of Eau Claire, Delvin (Kelley) of Eau Claire, Darryl (Debbie) of Eau Claire, Jason (Sarah) of Elk Mound, and Nathan (Gail) of Elk Mound; his 12 grandchildren; 9 great-grandchildren with another on the way; his sisters, Lois (Orland) Gustum and Carol (Marv) Michels; brothers-in-law, Albin (Terri) and Jarrette Dascher; his sister-in-law, Pearl (Jim) Christen; along with many nieces and nephews.

Richard is preceded in death by his wife of 60 years, Sharran; infant daughter, Dawn; parents, Leonard and Anita Balts; mother and father-in-law, Harland and Viola Dascher; brothers, Donald and Norman Balts; infant brother, Gary; and brother-in-law, Harland Dascher Jr.

Family and friends may visit on Sunday, May 19, 2019 from 4:00-7:00 P.M. at Stokes, Prock and Mundt Funeral Chapel, 535 S. Hillcrest Pkwy, Altoona. A Memorial Service will be held Monday, May 20, 2019 at 11:00 A.M. at Stokes, Prock and Mundt Funeral Chapel. A visitation will be held one hour before the service. Interment will be private.

Stokes, Prock and Mundt Funeral Chapel, Altoona is assisting the family with arrangements. Online condolences may be shared at www.stokesprockandmundt.com.