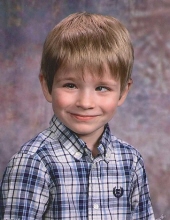 Obituary for Vincent Loren Lee
Vincent Loren Lee, 6, of Eau Claire, Wisconsin, passed away on April 2, 2018, at home surrounded by his family, and he passed away from a brain tumor.

Vinnie was born at the Childrens Hospital in Marshfield, WI on February 4, 2012. He attended St. James preschool for two years, and then attended St. James for kindergarten. He was baptized on July 8, 2012 at St. Patrick's Church by Father George.

Vinnie loved army men and setting toys up in rows. He adored his brother Ollie and his dad, playing with all and any kids, and he loved God. He was good in church, liked being read to, and he was great at find and seek books. He loved dancing, playing strategic games, including computer games. He loved to swim in water and was an EEL at the YMCA. Vinnie loved his chickens, cats and his dog Blue. He liked spending time riding his bike, watching cartoons, playing with his teddy bears and always wanted to stop and play at any park he saw. He loved riding on the school bus, swinging on his swing set, going to school and eating school lunches. He loved Father George and Pooh Bear, but his favorite thing in the world was to have fun!!! He was a sweet and joyful boy.

Vinnie is survived by his parents, Eric Lee and Janell Borchardt; his brother Oliver Lee; his grandparents, Lorraine Borchardt, and Terry and Salomea Lee; his uncle Lyle Borchardt; and his aunt Angela (Matt) Thompson, and many friends and relatives.

Vinnie is preceded in death by his great grandpa, Isadore Sznaider; his uncle Loren Borchardt; and his grandpa Melvin "Red" Borchardt.

In lieu of flowers, donations can be made to Sacred Heart - St. Patrick's Parish, 322 Fulton Street, Eau Claire, WI 54703; Regis Catholic Schools 2728 Mall Drive Suite 200, Eau Claire, WI 54701; or Halos of the St. Croix Valley-Chippewa Valley Chapter, 207 S. Knowles Ave., New Richmond, WI 54017 in memory of Vincent Lee.

Funeral Mass will be held at Saturday April 7, 2018 at 11:30 AM at St. Patrick's Church, 322 Fulton Street, Eau Claire, WI 54703. Father George Thayilkuzhithottu of St. Patrick's will be officiating. Visitation will be held from 9:30 AM until time of service at the church.

When I was One,
I had just begun.

When I was Two,
I was nearly new.

When I was Three,
I was hardly Me.

When I was Four,
I was not much More.

When I was Five,
I was just alive.

But now I am Six, I'm as clever as ever.
So I think I'll be six now for ever and ever.
Previous Events
Visitation
St. Patrick Catholic Church
322 Fulton Street
Eau Claire, wi 54703
Service
St. Patrick Catholic Church
322 Fulton Street
Eau Claire, wi 54703
Memorial Contribution
Regis Catholic Schools
2728 Mall Drive Suite 200
Eau Claire, WI 54701
Halos of the St. Croix Valley - Chippewa Valley Chapter
207 S. Knowles Ave.
New Richmond, WI 54017