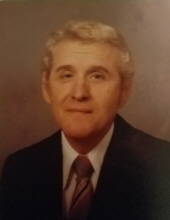 Obituary for Wesley B Berg
Wesley B. Berg, 91, of Eau Claire, passed away at his home on Tuesday October 8th 2019.
Wesley was born on July 31st, 1928 to the late Wilhelm and Edith (Nicols) Berg. He graduated from Taylor High School in 1946 and attended La Crosse College for a short time. He also attended Armor Officers School at Fort Knox.
Wesley had a long career in the military that began in 1950 when he was stationed overseas for 18 months. After two years of active duty he joined the National Guard of Wisconsin in 1954. He was again called to active duty in 1961 with the rank of First Lieutenant and upon completion was promoted to Captain. Just prior to 1973 he was promoted to Major and assigned to the Wisconsin Military Academy as a training officer. In 1974 he retired from the military with 23 years of service under his belt. Along with his extended service in the military Wesley was also a banker for Jackson County Bank from 1954-1979. He was a Master of the Blair Masonic Lodge, Commander and Adjutant of American Legion Post #368, and a board member for the Village of Taylor. He also volunteered at Carson Park and Chippewa Valley Museum.
He is survived by his sisters, Delores Joten and Virginia Hanson; along with many nieces and nephews.
He is preceded in death by his parents; and brothers, Wayne and Giles Berg.
Services will be held at Trinity Lutheran Church (1314 E Lexington Blvd, Eau Claire) on Tuesday October 15th at 11:00 AM with visitation an hour before hand. Military honors and a luncheon will follow the service. Pastor Patrick Patterson will be officiating the service.
Memorials given to family will be donated to Trinity Lutheran Church.
Previous Events
Visitation
Trinity Lutheran Church
1314 East Lexingtion Blvd
Eau Claire, WI 54720
Service
Trinity Lutheran Church
1314 East Lexingtion Blvd
Eau Claire, WI 54720