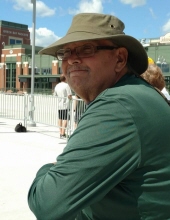 Obituary for William Dale Webb
William Dale Webb,60 of Holcombe passed away May 28, 2018 at Sacred Heart Hospital as a result of complications from liver disease. His family was by his side when he left this earth to meet his maker. He was born to Elizabeth (Brantner) and William Webb on September 24, 1957. Elizabeth passed away in 1977. Bill then married Virginia Follansbee in 1982. Bill grew up in Eau Galle, WI. He attended Durand High School and graduated in 1976.
He served his country in the United States Navy from 1976-1980 and in the National Guard from 1982-1984.
After his honorable discharge from the Navy, Bill attended Chippewa Valley Technical College and graduated with honors in Agricultural Mechanics. He accomplished this while working full time and raising a young family.
Bill worked for many years for the state of WI UW System. He worked with his brother-in-law at PJ's Concessions and spent time in the woods tapping trees and cooking maple syrup. He loved creating unique wood working projects with his father In-law John. Bill retired from UW-Eau Claire Facility Maintenance in 2014. Bill volunteered multiple hours while his children were young, coaching softball and helping at the Chippewa Falls Ice Arena.
In his retirement he enjoyed bee keeping, gardening. He was a mason, handyman, there wasn't anything he couldn't fix (except plumbing).
Bill was a friend to many. He was also willing to help others out, no matter the job.
Bill's family was the most important thing to him. His greatest joy came from spending time with his children and grandchildren.

Bill is survived by his wife of 35 years, Jeanine (Anderson) Webb; his children, Josh (Marie) Webb, Jeremy (Nicole) Webb, Andrew (Ashley) Webb, April (Joel) Jansky; his grandchildren, Levi and Cody Webb, Olivia, Nora and Eva Webb, Conner and Eastyn Jansky; He also leaves behind his brothers, John (Deb) Webb, Ronald (Patti) Webb, Richard Webb ;sister, Juliane Webb; step siblings, Clint Follansbee, Denise and Mark Hutter, Ed and Dee Dee Follansbee, Greg and Missy Follansbee and Diane and Brent Matter; father-in-law, John Anderson, brother-in-law: John (Penny) Anderson; sisters-in-law, Kathy Bernier, Pamela (Dale) Thompson and other loved ones and friends.
He is preceded in death by his parents and his mother-in-law Marjorie Anderson.

A celebration of life will be held from 3pm to 6pm on June 3rd, 2018 at Stokes, Prock and Mundt Funeral Chapel 535 S. Hillcrest Parkway, Altoona WI. Interment Private
Cremation Society of Wisconsin, Altoona is assisting the family with arrangements. Online condolences may be shared at www.cremationsociety-wi.com.