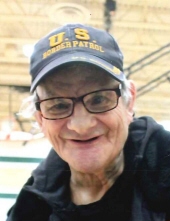 Obituary for William John "Billy" Noss
William John "Billy" Noss, 78, of Eau Claire, WI, died peacefully at home on Tuesday, May 8, 2018.

Billy was born on July 12, 1939 in Wausau, WI to Arthur and Violet (Dellenbach) Noss. He resided in the Wausau area until he was 17 years old when he went to the Northern Colony in Chippewa Falls, WI for special help instruction.

In the 1980's, Billy moved to Eau Claire to begin the process of living independently. He spent a number of years with the Sorensons on a farm in western Eau Claire County. During that time, Billy rode his bike to Carson Park to shag baseballs with the Eau Claire Cavaliers baseball team. Ball shagging became a part of Billy's life, once chasing someone with a foul ball from the baseball stadium to the Menomonie Street Dairy Queen. There were also many teams that Billy did ball shagging and security for, including the Eau Claire Bears Baseball Club, Chippewa River Baseball League, and Eau Claire Parks and Recreation Softball Tournaments.

During his work with the Cavaliers, Billy became a special friend to Dave Hanson, Public Address Announcer for several organizations and radio sports broadcaster with Hayes Callaghan. Through his life, Dave took Billy to several of his announcing events in a variety of sports and on regular shopping errands and medical appointments besides special trips in Wisconsin and Minnesota. It was through these trips with Dave that Billy got to know sport coaches and players over the years. Dave was a special person who Billy always contacted first when he needed something.

Billy was the Unofficial Mayor of Eau Claire, WI. He was also called "Chief" as well. His decked-out bicycle filled with red and yellow lights was a fixture in the area.

Billy worked at several restaurants in Eau Claire. He also worked for Reach, Inc, and Country Jam USA in recent years.

Regis High School athletics welcomed Billy to be a part of their sports programs. During football games, he would be on the sidelines as ball boy and at basketball games would do security. Trips to the WIAA football state tournament were a part of Billy's role with Regis. All of the Regis coaches were special to Billy, especially football coaches Chris O'Connell and Bryant Brenner.

Billy also was involved with UW-Eau Claire by providing security at football, basketball, and other sports.

In recent years, Billy celebrated the Christmas holiday season by giving out boxes of candy to his friends. Dave Hanson helped him with the task of purchasing, wrapping, and distributing the candy.

The love of sports was evident at Billy's apartment. Posters, scoreboards, and pictures filled the rooms, displaying the many people Billy had met in his travels.

Special Olympics became a love for Billy, thanks to the encouragement of Bob Lesniewski. He joined many sports with the Eau Claire Adults Special Olympics Program, but his best was softball. Despite getting older, Billy played catcher and outfielder for many years through the 2017 season. He also assisted with security at other Indianhead Area Special Olympic events. He was awarded a state Special Olympics Award for his dedication to the program.

He also volunteered at Breakfast in the Valley, the Eau Claire Ski Jumping Tournament, and the Eau Claire Air Show. Every July 4th, Billy was on duty to direct traffic at Carson Park following the day's fireworks event.

Billy received an honorary lieutenant designation, which included an official police badge, from the Eau Claire Police Department on July 10, 2014 for his upcoming 75th birthday. It was a celebration, thanks to cooperation of the Eau Claire Express baseball team, that was the right fit to honor Billy.

"Let me win. If I can't win, let me be brave in the attempt". Billy was brave in whatever he did and always had a smile and friendly greeting to whoever he met.

Billy is survived by his sister, Joan Urban, and brother-in-law Roger Urban, both of Wausau, WI, nieces, nephews, and special friend and caregiver Dave Hanson

He was preceded in death by his parents.

Funeral services will be held at Eau Claire's Carson Park Baseball Stadium on Thursday, May 17, 2018 at 1:00 P.M. with Pastor David Irgens of Saving Grace Lutheran Church officiating. Visitation will be from 10:00 A.M. to 1:00 P.M. Thursday at the baseball stadium.

Burial will be at Pine Grove Cemetery in Wausau, WI at a later date.

In lieu of flowers, memorials are preferred. The "Billy Noss Celebration of Life and Special Olympics" account has been set up at Royal Credit Union. A "Go Fund Me" page for the service and memorials has also been set up on Facebook.

Memorials may be directed to Special Olympics or to the donor's choosing.

The family would also like to thank Gretchen Naedler and Cheri Riemenschneider of Inclusa, landlord Ben Hays, and friend Darren Gibson for all they did for Billy over the years. Special thanks to Dawn Comte of the Eau Claire Parks and Recreation Department and Andy Neborak of the Eau Claire Express for making Carson Park Baseball Stadium available for the service.

Stokes, Prock & Mundt Funeral Chapel is assisting the family. Online condolences may be shared at www.stokesprockandmundt.com.
Previous Events
Visitation
Carson Park Baseball Stadium
Carson Park Dr
Eau Claire, WI 54703
Celebration of Life
Carson Park Baseball Stadium
Carson Park Dr
Eau Claire, WI 54703