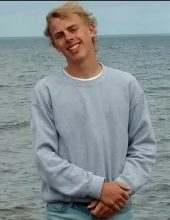 Obituary for Jackson Carter Pearson
Jackson Carter Pearson, 17, of New Richmond, WI passed away Saturday, May 5, 2018 at Regions Hospital in St. Paul.
Jack was born May 8, 2000 in Stillwater, MN the son of James Pearson and Sara Dorr.
After learning to walk, Jack learned to skate and play hockey, and, soon after that, he picked up a racquet for tennis and put on shoes for cross country. Jackson loved to make music, thousands have listened to his songs. He loved the pursuit of knowledge. Jack also had an unending capacity to love and care for others while finding great joy in seeing the people he loved smile. He will be dearly missed by his family and friends.
He is survived by his parents, James S. Pearson and Sara (Terry) Dorr; a brother, Stuart Pearson; his grandmothers, Beverly Pearson and Marie Konu; and many cousins, aunts, uncles, and friends.
Jack was preceded in death by his grandfathers, John Pearson and Kenneth Konu.
Memorial services will be held Monday, May 14, 2018 at 4:00 P.M. at Zion Lutheran Church 252 State Rd 35 Osceola, WI. The family requests that donations in Jackson's memory be directed to LifeSource, 2225 West River Road North, Minneapolis, MN 55411.
Cremation Society of Wisconsin, Altoona is assisting the family with arrangements. Online condolences may be shared at www.cremationsociety-wi.com.